MJog Messenger
MJog Messenger helps GPs communicate with their patients through our app. MJog is not your doctors surgery, we are a technology provider to the NHS.
You can download the MJog Messenger app by clicking below.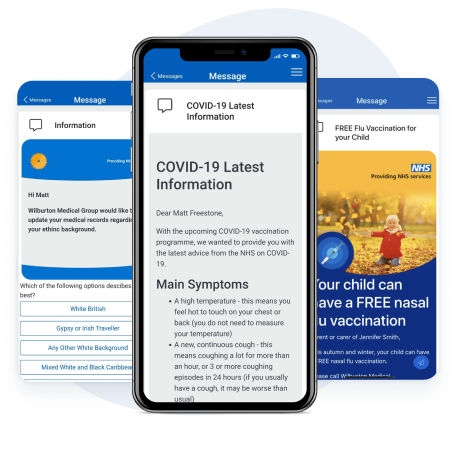 Frequently Asked Questions
What is MJog Messenger and what's does it do?
MJog Messenger is a mobile messaging app which provides simple secure and free communication of health information between your GP surgery and you.
Why do I need this App?
It is well known that standard email is not secure and therefore cannot be used to send sensitive or personal information. MJog Messenger provides secure and private messaging that is used by NHS healthcare providers to send potentially sensitive messages to you. In addition, research has found that the use of MJog Messenger has lowered the number of missed appointments for surgeries resulting in a possible saving of £22.60 per missed appointment; £162 Million per year.
Do I need to download the App as I already receive text messages from my surgery?
Yes. Unlike SMS messages, the App provides a free channel of communication for your surgery to use to communicate with you, which helps the NHS to save money.
Will messages stop if I do not use this App?
No. If you choose not to install the App you will continue to receive basic SMS text messages from your GP surgery.
Downloading the App
How do you download the MJog Messenger App?
Download the MJog Messenger app from your app store. For Apple iPhone it is the Apple App Store. For Android it is the Google Play store.
My phone isn't a SMART phone, can I download the App to my branded phone?
No. We only support phones which can download apps from the mainstream Apple App Store and Google Play store.
Will the App work on a laptop?
Unfortunately, no. A mobile number is required to identify your device, limiting its use to Smartphones and tablets.
Can I download the App to my Windows phone or Blackberry?
No. We do not currently support Windows or Blackberry phones, however newer Blackberry devices which support Android the app can be downloaded.
Questions about the App
I have downloaded the App, how do I register?
The app will walk you through the registration process when you first run it. You simply enter your mobile number which triggers a text message with a validation code. After entering the code you are registered.
I have download the App, but I still get a text message?
Text messages are used as a fall-back if you do not respond to a message from the App in a certain time.
How much data will the App use?
Messages that are sent are the same size as an email. When opening a message some may have images making them about the same as a web page in download size.
Can I book an appointment or reorder a prescription through the App?
MJog Messenger is designed as a messaging App, not for booking appointments or ordering prescriptions. However, you will receive reminders about your appointments and other health-related messages which may include a link to a recommended online service or Apps for booking appointments or reordering your prescriptions.
How do I cancel an appointment if I've already accepted it?
You will need to contact your GP surgery for making any appointment changes once you have replied.
Security of the App
What security credentials does MJog have for the App?
We are ISO 27001 certified (CI/155921S) with a UKAS management Systems accreditation (63).
What personal information does MJog store about me in the App?
MJog does not take any information from you up apart from your mobile number.
Is my data shared with any third parties?
No personal identifiable information is shared with any third parties. We do however share App 'Crash Reports' to a third party service, Sentry.io. This data helps us improve the App and your mobile number is not shared.
Are messages and my data secure?
Yes, any messages that are sent by your healthcare provider are encrypted until they reach you.
Is there a PIN lock feature?
Yes, there is a PIN lock feature in addition to your phone security to prevent unauthorised or unwanted access to your messages. If you want to turn this off you will need to add a PIN.
Is my PIN secure?
Yes your pin is secure. Currently if you forget your pin there is no way to circumvent it requiring re-installation of the app.
Will I get spam?
No. Only your healthcare provider or practice can send you messages via the App. All messages relate to appointments or health advice information from your healthcare provider.
Will my mobile number be shared with other companies?
Rest assured your mobile number is only used for the purpose of sending messages from your healthcare provider or GP surgery.
Get advice from the NHS
MJog provides messaging and engagement technology for the NHS. We do not provide medical advice and we're not your GP or medical practice.