Cut SMS costs in half
CCGs in England can save an average of £135,000 per year in SMS costs by enabling delivery through Web Messenger.
Web Messenger helps practices engage with more patients, at a lower cost.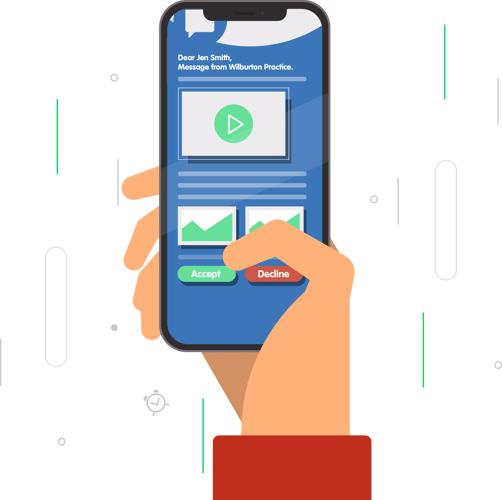 Some CCGs in England could save over £200,000 a year by using Web Messenger.
What are the benefits?
Web Messenger brings patients, practices, and CCGs huge benefits.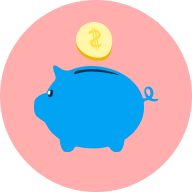 Save Money
Web Messenger compresses long SMS messages into a 1-segment SMS, which saves thousands every year in SMS costs.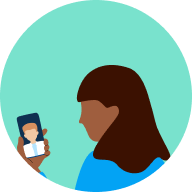 Increase Engagement
Messages sent via Web Messenger can include video, images, and surveys. These help engage patients more than an SMS.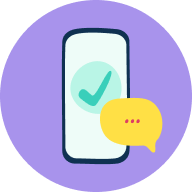 Send to All
Reach all your patients through Web Messenger, whether they have internet access or not. You can default back to traditional SMS anytime.
How it works
MJog sends your patient a one segment SMS message telling them they have a message from their practice. In the SMS message there's a link that sends them to a secure web page launching Web Messenger. Within Web Messenger is the stylised full message from the practice, plus further details.
"I am really enjoying using MJOG messenger. It really is a dream as I am using the templates, engaging with patients, getting replies back and it supports all the other online services we are offering. Such a simple messaging tool but very powerful. Small changes, big impact. Truly transformational."
- Dr Amir Hannan, MBE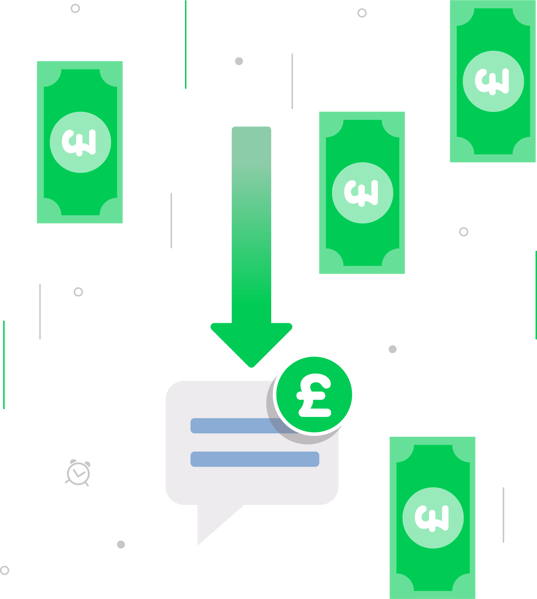 Huge cost savings
For every ~160 characters in an SMS, an extra 'segment' is needed for the SMS to be delivered. Each one of these segments costs 1.55p. The average SMS message length in the UK is 330 characters, or 3 segments, totally 4.65p per SMS message sent.
What Web Messenger does is compress this message into a Smart message and then present it to the patient on a secure webpage. The patient is notified by an SMS message of less than 160 characters, or 1 segment, cost just 1.55p.
By removing two segments, 3.1p is saved per patient per message, totally up to millions of pounds every year saved for the NHS.
Why it's great for patients
There's a reason that WhatsApp has over 65% reach in the UK, with 78% of 25-34 year olds using the service. It's clear that people want a richer messaging solution than SMS as it's more secure and more engaging.
Smart messages, delivered by Web Messenger, are engaging messages that pack a punch. By including relevant information from the practice, patient confidence in their healthcare and practice is improved.
Patients prefer to interact with their GP through rich messaging, and Web Messenger brings that functionality to the masses.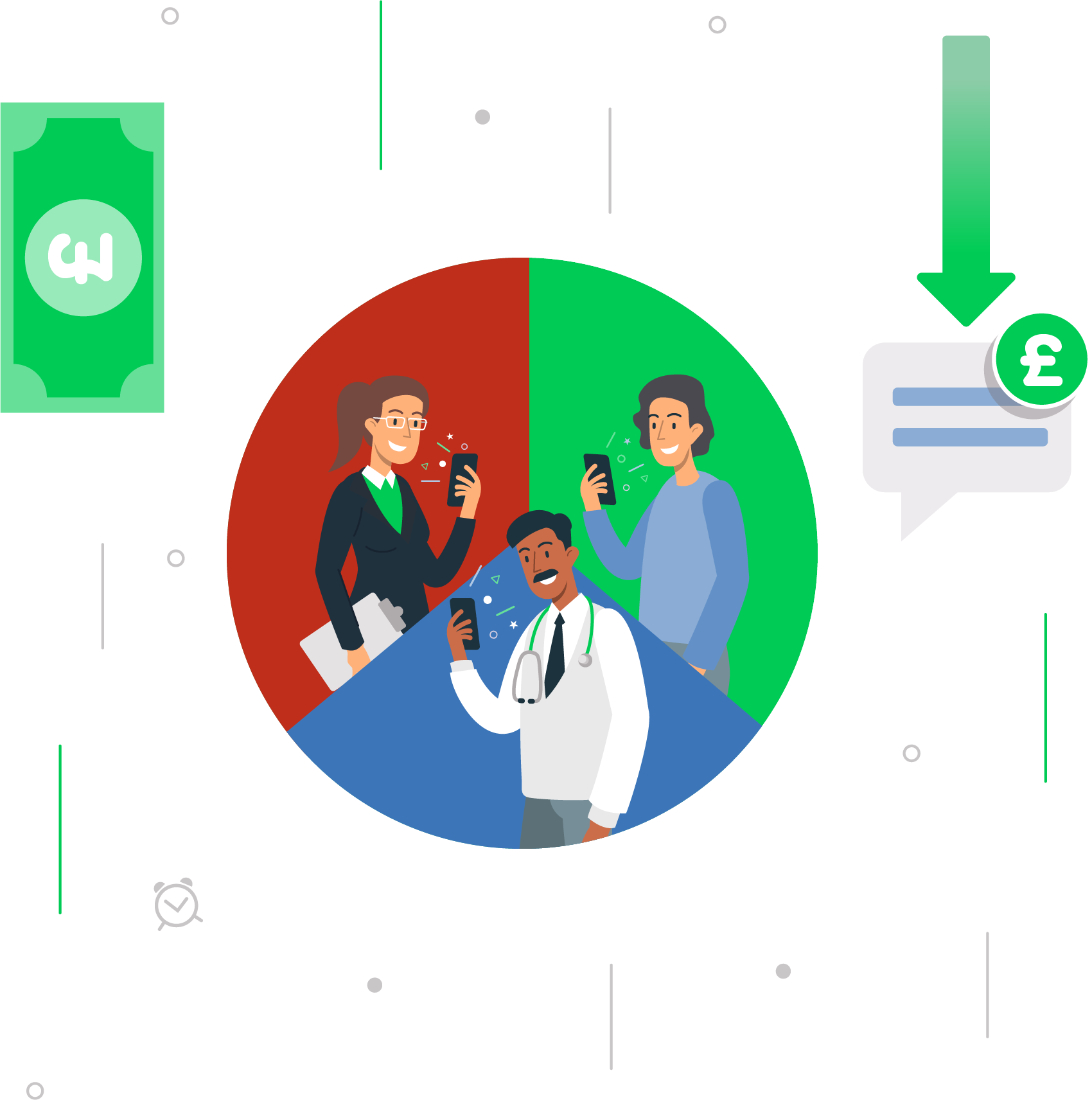 Full Feature List:
Free message delivery, data messages become primary channel with SMS is used as a backup
Controlled replies – patients respond using quick access button, multiple choice can be provided and controlled by practice
QOF Questionnaires enabling 2-way SNOMED Coding
Increase Patient Online Usage, helps achieve target for POL target
Highly engaging messages, can include Images or links to other apps and websites or service provided by practice e.g. online consultations, auto check in, practice website.
Secure Messages, encrypted & pin protected.
Centralised reporting of message usage reports of practice specific message usage
CCG design and distribution of public advised messages
Target patient stipulation for CCG wide messaging
Practice grouping, enables sending of messages to specific localities or entire CCG
Automatic Smart Invites programme to encourage ongoing patient downloads without need for blanket invite
Patient Welcome template incorporated into registration, providing access to other NHS services
FAQs:
Will this affect the messages I send with MJog Desktop GP?

Yes, messages will be sent with Web Messenger unless the user selects switch to SMS. This is good news as it will give the these messages a much more friendly look and feel.

What if the patient does not have a smart phone?

The patient can put the URL into any device such as PC or iPad with an internet connection to view the message or they can phone the practice to opt-out of Web Messenger messages.

What if the patient doesn't trust the message?

It is only natural for some patients to question this message the first time they receive one. We recommend that you reassure your patients that this helps you to get more informative and engaging content with regards to their health or their healthcare provider and that they can trust the messages.

What if someone else clicks the link?

In addition to most phones being security protected such as fingerprint, face ID or Pin making it difficult for anyone else to get to the message, the message can also be sent with pin protection set as the patients date of birth,

Do I need to do anything to switch this on?

No this will happen automatically.
What does my practice need to do to prepare from a technical perspective?

Make sure the Smart reminder template, Confirmation and FFT templates have been downloaded into your own template section in the main MJog client. Failure to do so will stop the automatic messages from reaching your patients. All you need to do is go to your MJog template downloader and select the option to download the templates.
You can download smart templates by going to Template builder/Change My Messages and Other Settings and pressing the blue Download Templates button. Please note, you must have a smart template set up for appointment reminders in order for web messenger to work fully.
For sites with Branches, you will need to do the following:
You need to amend your reminders and confirmations to refer to 'site name' instead of 'hospital' name in the merge fields. Follow this simple guide on how to amend your appointment reminders.
How long do the links stay active?

The links expire in 120 days. Photo Upload requests expire in 14 days.

Does this make the MJog messenger app redundant?

No, if a patient wants to use the app, they will be able to bypass the initial text message and get to the message via the APP. If a patient would prefer not to get a text, they can still download and use the APP as normal.